​AAM Further Expands in China, Forms Joint Venture with Liuzhou Wuling
Published on April 5, 2018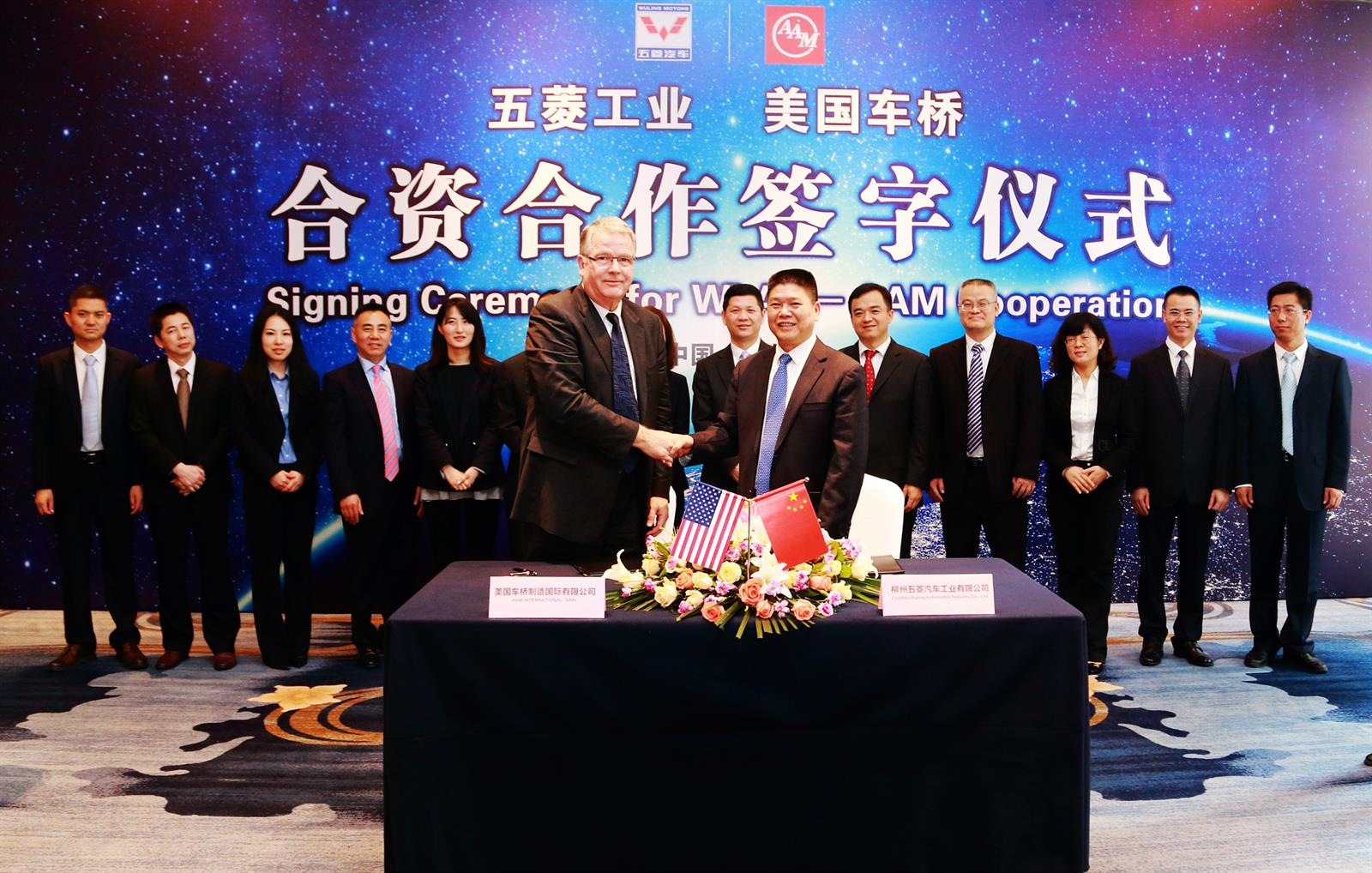 Donald Joseph, president of AAM Asia and Weimin Li, Deputy General Manager, Guangxi Automobile Group at the Liuzhou AAM Automotive Driveline System Co., Ltd. signing ceremony.


DETROIT, April 5, 2018 — American Axle & Manufacturing (AAM) and Liuzhou Wuling Automobile Industry Co. Ltd., a subsidiary of Guangxi Automobile Group Co., Ltd., have entered into a joint venture agreement to manufacture driveline systems, the companies announced today.
Liuzhou AAM Automotive Driveline System Co., Ltd. will begin production later this year in a state-of-the-art manufacturing facility located in the state-level economic development zone of East Liuzhou, in the Guangxi Province.
"Liuzhou AAM will be our latest manufacturing facility in China that further expands and diversifies our global footprint," said David C. Dauch, AAM Chairman and Chief Executive Officer. "AAM is committed to strategically growing with new customers in new markets. Liuzhou AAM will also continue to enhance our ability to provide both conventional and electric drive axles in the world's largest automotive market."
Once production begins, Liuzhou AAM will manufacture independent rear axles and driveheads to meet the needs of the fast-growing segments of multi-purpose vehicles and crossovers including vans, mini vans and sport utility vehicles.
Liuzhou AAM will produce driveline technology for SAIC-GM-Wuling's SUV and MPV models. SAIC-GM-Wuling is a joint venture between General Motors and SAIC and is the largest manufacturer of rear-wheel-drive light vehicles in China.
About AAM
AAM (NYSE: AXL) is a premier, global leader in design, engineering, validation and manufacturing of driveline, metal forming, powertrain, and casting technologies for automotive, commercial and industrial markets. Headquartered in Detroit, AAM has over 25,000 associates operating at more than 90 facilities in 17 countries to support our customers on global and regional platforms with a focus on quality, operational excellence and technology leadership. To learn more, visit www.aam.com.
About Wuling
Wuling Automobile Industry Co. Ltd. carrying along the group's rich experience in vehicle manufacturing for more than 30 years focuses on the design and manufacture of automotive parts, engines and special purpose vehicles in China. It has established a complete industrial value chain in the synchronous engineering, core manufacturing, resource integrations and vehicle distribution. The company focuses on providing customers with high quality products with most competitive price. Wuling Industry currently operates in various Chinese cities including Liuzhou, Qingdao and Chongqing, as well as Indonesia. Its main products and production capacity include 1.5 million vehicle sets of automotive axles, chassis and stamping & welding products; 800,000 automotive engines and 100,000 special purpose vehicles.