AAM Publishes 2022 Sustainability Report Highlighting Achievements, Awards and Future Goals
Top Tier 1 Global Supplier Maintains Strong Commitment to ESG
Published on April 3, 2023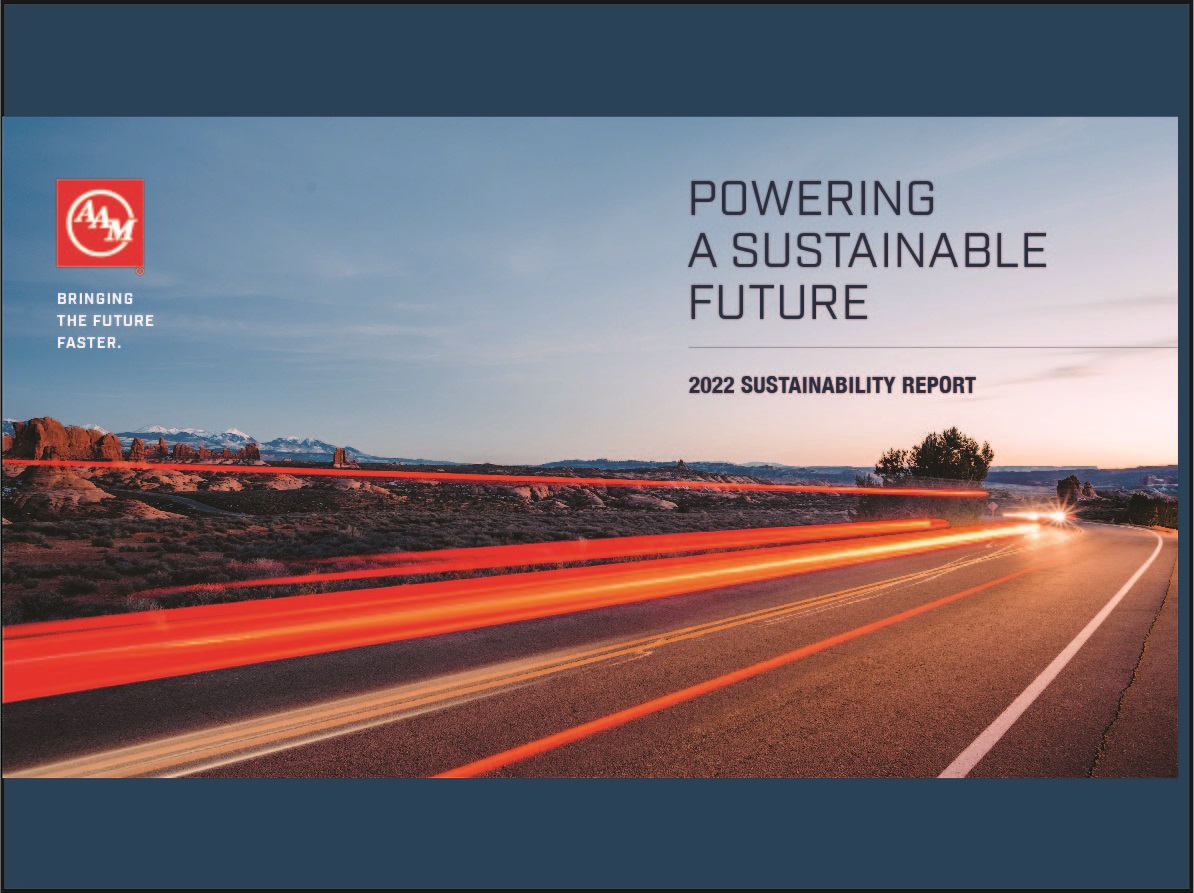 DETROIT – April 3, 2023 -- American Axle & Manufacturing (AAM), (NYSE: AXL) has published its 2022 Sustainability Report that features progress the company has made toward its environmental, social and governance goals. The report also highlights recognition awarded to its people, products and systems technology.
Listed in the report are a number of AAM achievements. In 2022, AAM:
was among the very first automotive Tier 1 suppliers to have net-zero targets validated by SBTi, the top external validation source in the industry
performed a sustainability materiality assessment to identify and prioritize sustainability topics and initiatives for 2023 and beyond
demonstrated electrification leadership by winning three Automotive News PACE program awards for our state-of-the-art electric drive technology
announced our investment in Autotech Ventures which complements AAM's mission to develop and produce the industry's most efficient and powerful electric drive units.
completed our acquisition of the Tekfor Group which leverages our core strengths, increases our electrification product portfolio, and diversifies our geographic and customer sales mix
successfully completed 17 global product and program launches
increased our spend with diverse suppliers 16% year-over-year
continued our support of the communities where we live and work with over $1 million in charitable contributions, including Associate giving
was named one of America's Best Large Employers by Forbes
hired its first Diversity, Inclusion and Equity executive and expanded its DEI-focused programming
View the complete report here.
About AAM: As a leading global Tier 1 Automotive and Mobility Supplier, AAM (NYSE: AXL) designs, engineers and manufactures Driveline and Metal Forming technologies to support electric, hybrid and internal combustion vehicles. Headquartered in Detroit with 85 facilities in 18 countries, AAM is Bringing the Future Faster for a safer and more sustainable tomorrow. To learn more, visit aam.com.
###
Media Contacts:
Christopher M. Son, AAM Charlotte Fisher, AAM
Vice President, Marketing & Communications Director, Communications & Community Relations
(313) 758-4814 (313) 758-2411
chris.son@aam.com
charlotte.fisher@aam.com