Experience and Expertise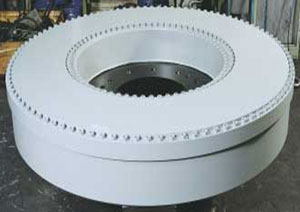 The AAM damper is one of the most efficient and reliable devices for controlling resonant torsional vibration conditions and therefore extending engine life. The AAM design allows the damper to operate at a high level of efficiency over a wide range of vibration frequencies.
AAM has over 60 years of design and application experience of torsional vibration dampers for slow, medium and high speed diesel engines as well as other drive line applications.
Illustrated Damper size: ø 2765 x 415mm
Construction Details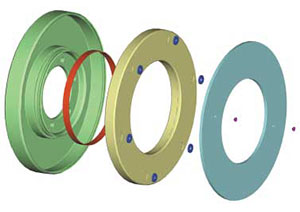 The AAM damper consists of: an inertia ring freely supported and located by bearings inside the casing the casing is sealed by the cover plate which can be either rolled or bolted screwed removable filling plugs are fitted, where possible, to all dampers above 470mm to allow fluid samples to be taken.
The clearance between the inertia ring and casing is filled with a measured amount of highly viscous silicone fluid.
Three basic methods are employed to seal the cover to the casing; welding, machine rolling or bolting. The exact method used is dependent upon damper size and customer requirements.